Why should Utility Corporations Sell Their Surplus Industrial Assets?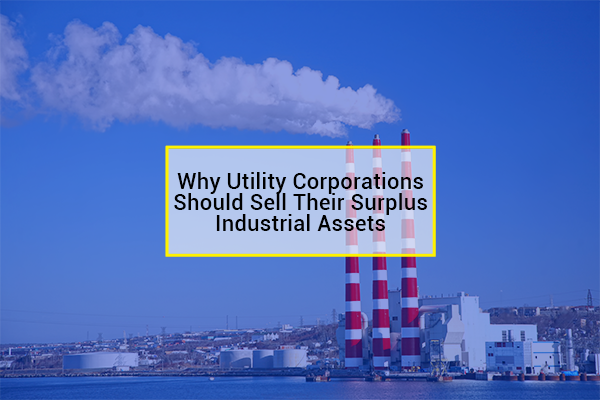 For the utility Industry, the need for spare parts and backup systems is crucial to avoid costly delays in production. These assets can range from larger pieces of production equipment such as pulverizer mills and transformers or smaller parts such as bearings, motors, pumps, and hand tools. These parts are purchased by your organization with the intention of being used in production, however, some of this equipment may not ever be used due to a variety of reasons, this results in these assets becoming deemed as surplus. The investments made on the equipment that never enter production can be recouped through various methods of asset recovery. Having an asset recovery strategy in place can help your company regain money from these assets.
Table of Contents
The Importance of an Asset Recovery Strategy
Utility Corporations tend to carry a vast variety of surplus industrial equipment and parts across multiple locations to avoid delays in crucial activities such as power generation. This surplus of equipment across multiple facilities can rapidly accumulate resulting in millions of dollars of unused equipment sitting idle in storage facilities. This leads to inflated holding fees, that can quickly become a major expense to the corporation. Holding fees quickly add up over time, while the value of unused surplus only depreciates. Rather than having the surplus assets sit idly and cost your corporation, you can implement an asset recovery strategy that will allow your organization to recapture valuable capital from surplus industrial machinery.
Having an asset recovery strategy is beneficial to your organization. By implementing a strategic approach to recovering value from surplus industrial asset your company will be able to minimize the impact on your operations while maximizing the value you are able to recover. Instead of allowing surplus to build until your company is forced into rushing into a last-minute attempt to remove the surplus equipment, you can have a strategic approach that never lets your surplus levels to reach this critical breaking point.
Why Leverage Equipment Sales
As technologies within the utilities industry change, many corporations are left with a surplus of obsolete parts & equipment taking up valuable real estate within the warehouse. This leaves asset recovery managers debating on the best method to handle these assets. There are multiple avenues for businesses to recover value from surplus equipment, however, the effectiveness of each method depends on various factors such as the amount of equipment you would like to get rid of and the time frame you would like to do it in.

Consignment -

is the process of selling where the dealer also know as the consigner will sell items on your behalf. You will only receive proceeds from the items that have sold and any items that do not sell will be returned to you. This option does not guarantee the sale of all surplus assets.



Redeployment

- Another option for recovering value from surplus industrial assets is Redeployment. Redeployment is reusing your surplus assets either in different ways, such as a different production line or, in different facilities. This is more of a long-term strategy and is not usually leveraged when there is a build-up of surplus equipment.



Equipment Disposal

- is a fast and relatively easy way to dispose of surplus. It is the process of selling your surplus equipment for scrap value. In many cases corporations end up paying to dispose of the equipment resulting in no monetary value gained.



Equipment Purchasing –

is one of the simplest and quickest forms of asset recovery for the utilities industry. Whether your facility is undergoing an inventory write-down, a production upgrade, or a restructuring of operations, you can quickly sell the surplus of unused or spare equipment.
Why Choose Equipment Purchasing for your company?
It's a fast and easy way to recover value from your surplus

No need to look for specialized buyers

Minimal Impact on Your Organizations Operations

Quick removal of surplus clearing up valuable space within your facility

Faster access to your funds from the sale

If applicable allows you to fulfill Corporate Social Responsibility Policies.
If your business is looking for an asset recovery solution that allows you to recover value in an expedient manner, with minimal impact on your operations then Equipment Purchasing is the best option.
Equipment Purchasing is an excellent option for businesses that do not want to invest a lot of time and resources into finding buyers for their surplus equipment. Your business can sell this equipment quickly at a competitive rate and have the removal of these assets coordinated on your behalf resulting in stress-free selling experience. These assets are often still in good working condition but no longer fit the needs of your operations, instead of storing this equipment or disposing of it, you can leverage these assets to regain capital that can be reinvested in your corporation.
Finding the right buyer can take time and valuable resources. From the marketing of the surplus assets and the continuing fee associated with holding on to the assets selling the equipment can begin to seem like more trouble than its worth. Having the right company doing this work for you can relieve the unnecessary pressure.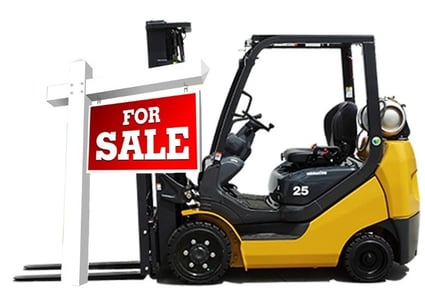 Once you have decided to sell your surplus the next step is to get that surplus ready to be evaluated. The evaluation process determines how much value you can get for your surplus. Make sure you know what items you want to sell and have them in an easy to access location for the evaluation process. Take the time to create a list of assets and their locations. Having a complete list of the items you want to sell will make the process easier for you. You will know what assets your company owns and wants to let go. Knowing which items are in working condition and which items are not in working condition will also help you regain value during the sales process. Items that are fully operational will generate more money compared to items that may need to undergo repair.
Why NRI Industrial Sales?
Our goal at NRI Industrial Sales is to form long-term partnerships with organizations and become their go-to experts on all matters of asset recovery. All of our solutions are customized and tailored to suit your organizations' specific needs. By creating a unique and customized approach to your industrial surplus we can ensure that we minimize the impact on your operations while providing the opportunity to recover the most value from your assets. Instead of listing your products for sale, these items will be bought outright, and all logistics of the sale will be taken care of by NRI Industrial Sales taking all the questions out of the buying process.
NRI Industrial Sales follows a simple yet comprehensive system for purchasing any surplus equipment from your business.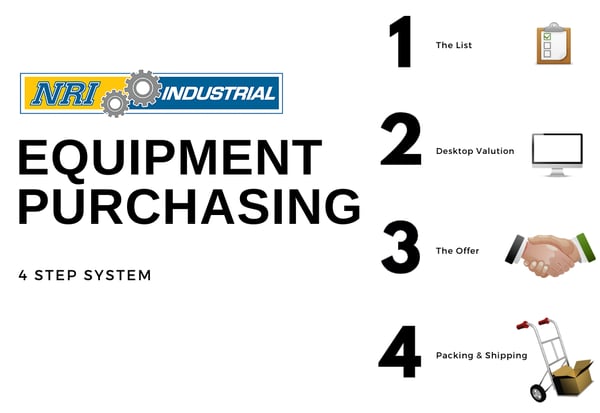 Step 1. The List
Step 2. The Desktop Valuation.
Step 3. The Offer
After the desktop valuation, we will use our industry knowledge and our highly trained staff will be able to create a competitive offer for the surplus. Once the offer is accepted we will inspect the equipment.
Step 4. Packing and Shipping
Our team will then package and ship all the purchased equipment from your facility in a timely manner on a schedule that works for you. There will be minimal disruption to your operations. You will not have to worry about any logistical aspects of this transitional stage and there is no work on your part, NRI Industrial Sales will handle everything for you.
Your business will recover not only capital from the sale but also valuable floor space in your facility that can be converted to work-space or used to gain more production value for your company. This turn-key solution is a simple and effective way of regaining value for your business from unused assets. Your company will also save money by no longer needing to spend on holding fees.
We will take care of all the heavy lifting for your business leaving you with additional capital and work-space by re-purposing the items you already own.
Need to see how the equipment purchasing works in the real world? Here is a case study highlighting the effectiveness of the NRI Industrial asset recovery solution in the Oil and Gas Industry.
NRI Industrial Sales will be there every step of the process. Our trained staff is there to answer any questions and solve any concerns or challenges that may arise during the sale. We will help your business regain value.
Ready to get started with asset recovery or would like to learn more about asset recovery? Give NRI Industrial Sales a call at 1 (855) 709-9813 or email us at solutions@nri-isd.com and our team of experienced professionals will be there to help.