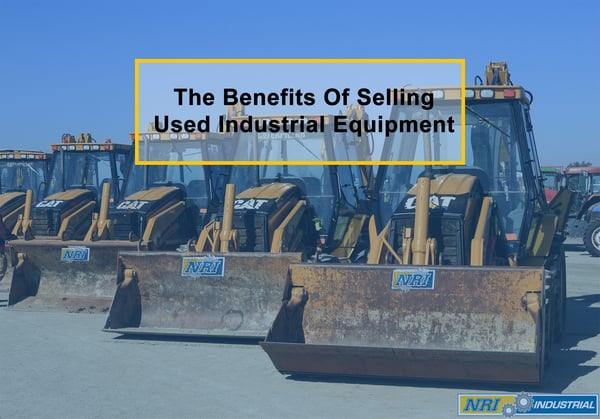 This means more and more equipment is being put into production each and every day all around the world. The question then becomes what are you going to do with your used industrial equipment? While there are many options to consider when selecting an asset recovery strategy, you think selling used industrial equipment may be the best option for your business however, how can you prove it? If you are to choose an option, you want to know the benefits associated with your choice.
Well, you are in luck. In this article, we'll look at the various benefits that selling used industrial equipment offers in order to help you determine if selling used industrial equipment is the right choice for you, your business, and your asset recovery strategy
Table of Contents:
Recover Unused Capital
Recouping some of the capital that you have tied up in unused industrial equipment is by far the biggest and most obvious benefit of asset recovery. Given that more and more companies are looking to purchased used industrial equipment at a discounted price as opposed to purchasing more expensive, brand-new equipment, recouping a considerable sum by selling your unused industrial equipment is now easier than ever before. Based on the amount of use of the equipment as well as the age of the equipment this money you could earn back can vary.
Using the standard straight-line depreciation calculation, we know the average depreciation rate for all industrial machinery equipment is roughly 21.8%/ year. Using these values, you can calculate the rough book value your equipment may have. Keep in mind these numbers are averages and are not specific to any specific equipment as well as working under the assumption of straight-line depreciation.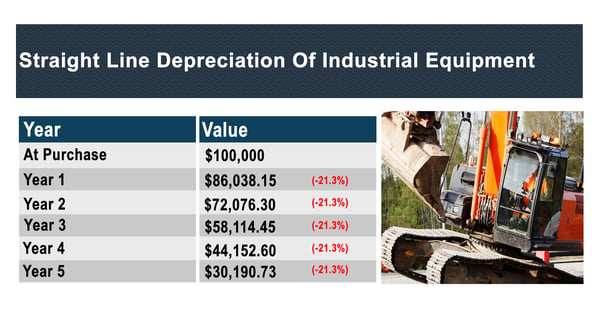 This money can then be used to invest in other areas of your business or fund new initiatives rather than remaining tied up in equipment that you no longer use. If you are looking for a way to increase your company's capital, selling used industrial equipment as part of your asset recovery strategy is a great idea.
---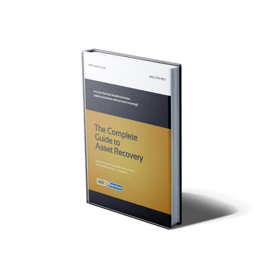 Ready To Learn More about Industrial Asset Recovery? Download the Complete Guide to Asset Recovery Now!
---
Free Up Storage Space
Storing large pieces of unused industrial equipment comes at a cost. Many pieces of industrial equipment can be quite large and cumbersome, taking up a lot of space in a storage facility. Since industrial equipment must often be stored in a secure and climate-controlled environment, the price tag associated with storing industrial equipment goes up even higher.
Of course, there's simply no reason to pay for the storage of industrial equipment that your company no longer uses. Selling your used industrial equipment enables you to free up this storage space, meaning that you are then either able to store something else in its place or eliminate a costly storage bill. Either way, freeing up storage space through asset recovery is sure to be far more beneficial for your company than hanging on to equipment that you never intend to use again.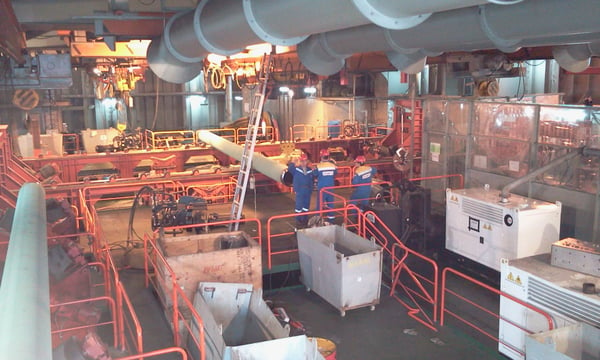 In fact, storing your used industrial equipment or surplus equipment could be adding a noticeable sum on your companies' expenses. In 2018 in the United States of America the average cost per square foot paid for industrial warehouse space ranged from $5.80 to $6.50. Combine this with recent reports that the average size of any newly built US warehouse size is increasing dramatically the costs can add up quickly costing your business thousands.
By selling your used industrial equipment kept in storage you eliminate potential costs for paying to store the equipment while also adding capital from the equipment to the companies' bottom line. In turn, this costs the company less and helps make more.
Eliminate Maintenance on Unused Equipment
Even industrial equipment that no longer sees regular usage still must be maintained. Unless you are okay with the equipment that you are storing going to ruin, you are still going to need to pay someone to perform routine maintenance on the equipment that you are no longer using. Just like paying to store unused industrial equipment, paying to maintain this equipment is an unnecessary expense.
Additionally, the labor rate for MRO labor in North America is $56.00 per hour. This means for standard maintenance to unused equipment you are paying for the MRO equipment used as well as paying the labor for the time spend with your equipment. Depending on the amount of equipment and type of equipment this can add up quickly costing your business more than it needs to be spending.
By selling used industrial equipment, you can eliminate this expense while at the same time freeing up the employees who oversee maintaining your equipment to focus on valuable equipment that the company is using on a regular basis.
Potential Tax Benefits
Selling used industrial equipment offers several tax benefits that may be very advantageous to your business. While it's true that you must count the profits made by selling used equipment as income for your company, selling used industrial equipment is still often beneficial from a tax standpoint. For example, if your used industrial equipment sells below its book value, you may be able to write off the difference as a tax deduction. While it's easy to get a fair price for your used industrial equipment by auctioning it online, it's still very common for the market value of used equipment to be lower than its book value. This leaves you room to write off a nice deduction in addition to whatever proceeds you receive from the sale.
When you choose to sell used industrial equipment, there are several tax benefits that you need to be aware of. These benefits are not as obvious as some of the other benefits associated with selling unused equipment and often go overlooked by companies that are sitting on industrial equipment that they no longer use. However, they should certainly be considered as you go about determining whether selling your used equipment is the right choice for you and your company.
Help Save the Environment
While not a primary reason to sell used industrial equipment one must keep in mind the question of what would happen to the equipment if you were just to remove or scrap it. Each year in the United States of America industrial waste accounts for over 7 billion tons of waste. While not all of this is used equipment a good portion of it is. Combine this with the current "Green movement" as well as the surge of companies adopting corporate social responsibility programs (CSR). By selling your used equipment you prevent further waste and can keep and CSR you may have.
Establish Partnerships with Other Companies
Selling your used industrial equipment to other companies in the manufacturing industry can serve as a gateway to helping you establish relationships and partnerships with other companies that may valuable down the road. There's no way to know for when, if, or how the relationships you form with other companies by engaging in transactions with them will come to benefit your company.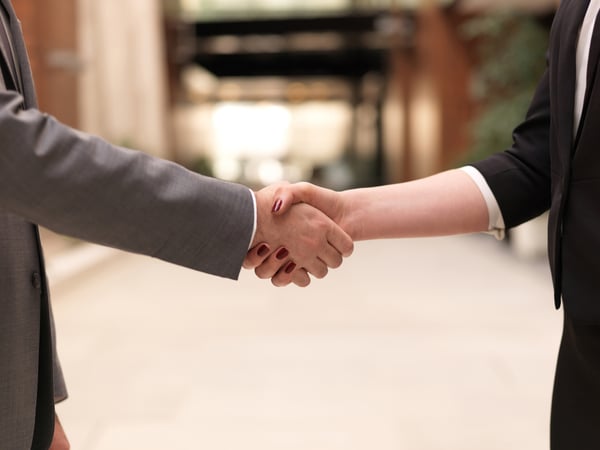 However, there is no such thing as having too many connections and relationships within the manufacturing industry, and selling your unwanted industrial equipment helps you to form these connections and relationships.
How to Sell Your Used Industrial Equipment
Depending on the state of the company there are many different options that can be used to sell used industrial equipment. While each option has its own risks, they also each have their own benefits. Previously we have written an extensive blog covering this topic. To read the complete article just click the link below. Here are the quick options you need to be aware of when selling your used industrial equipment.
Selling Options
Private Treaty Sale
This type of selling occurs when you are the owner of the equipment and elect to sell the equipment. This is the standard version of selling most people are accustom to. An advantage of this selling method is the control remains with the seller of the equipment. The seller sets the costs and selects what sales channels they wish to use to try and sell the equipment. This could be selling the equipment online or directly to potential buyers. The control, on the other hand, is a double edge sword as these leaves all sales responsibilities on the party selling the equipment. If you are not motivated to sell the equipment or lack the expertise to properly market this equipment.
Consignment Selling
Consignment selling could be an appealing option for companies who are looking to quickly clear out warehouse space. With most consignment sales the seller retains ownership of all the items however the seller no longer is responsible for warehousing the items. The consignor takes over warehousing the equipment and applies their industry knowledge to sell the used equipment on the seller's behalf.
The potential downside to this option is the fact that you may not get as much potential return as a private treaty sale. This is because the consignor will take a percentage or fee for each item sold. Another potential downside is the time to sell the equipment. While you immediately recover your warehouse space the potential for the equipment to sit in the storage room of the consignor is realistic. This means the monetary return may trickle in slower than expected.
Recently we wrote a complete article on using Consignment to sell used industrial equipment. You can view the complete article by clicking here
Auctions
Event-based selling can be a great way to quickly sell used industrial equipment. but, unlike the previous two options, you give up a fair amount of control over your assets. While you still have some control over things like reserve pricing you lose control over some crucial aspects such as who can bid on equipment. Depending on some auctioneers you also must have a certain amount of equipment up for sale or else they will not be interested in auctioning the equipment. Of course, auctioneers do not auction equipment for free so on top of the loss of control you also are paying a percentage back to the auctioneer. though, with event-based selling you can ensure you get fair marketing value and liquidate all the equipment quicker than the previous two alternatives. A popular alternative for event-based selling, is the continued rise of Online industrial Auctions, Learn more about how to use industrial auctions to sell used industrial equipment by clicking here
Conclusion
For most organizations, the potential monetary gain from selling used industrial equipment is reason enough, But when you consider the multitude of different advantages this choice brings with it - from freeing up valuable space to reducing your overhead costs to being able to take advantage of new opportunities as they present themselves and more - it's easy to see why you shouldn't just sell industrial equipment you're not utilizing anymore. You should sell it as soon as you possibly can.
As an industry leader with over a decade of experience, NRI Industrial is dedicated to helping corporate businesses create and execute investment recovery strategies in any and all ways that we can. NRI Industrial creates turnkey solutions for organizations all over the world ranging from small to mid-sized businesses to titans of industry and fortune 500 companies. Our solutions are designed specifically for your industry and tailored to whatever industrial surplus challenge you may have. Read more about our client's recent success by browsing our latest case studies
Have a question about how to get started with an asset recovery strategy or looking to start selling used industrial equipment? Give us a call at 1 (855) 709-9813 or email at solutions@nri-isd.com and our team will be more than happy to answer them.
---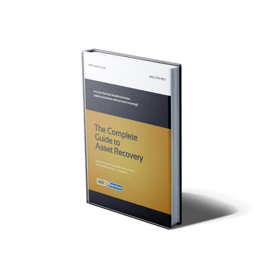 Ready To Learn More about Industrial Asset Recovery? Download the Complete Guide to Asset Recovery Now!
---
Like this article? Check out our other recent article: What To Look For When Hiring An Industrial Asset Recovery Firm