On October 7th, NRI Industrial offered their clients, both longtime and prospective, an in-depth presentation titled "How to Recover Value from Surplus and Obsolete Inventory."
The presenters represented 50 years of combined experience working in the world of surplus and industrial assets. Michelle Lester, NRI's Senior Business Development Manager, specializes in providing strategic asset-recovery solutions for multinational organizations with surplus MRO, spare parts inventory, machinery, and equipment. Steve Stipanovich, an Executive Purchasing Manager, knows all aspects of industrial equipment and has expertise in storeroom MRO and Industrial parts.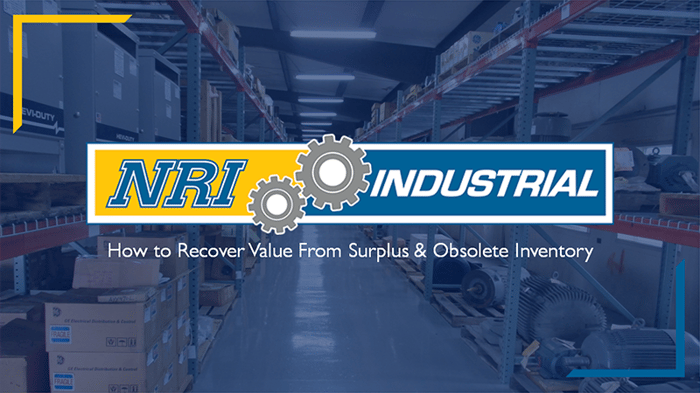 The presentation offered a look at what asset recovery is, why it is essential, and various solutions. Additionally, the importance of coming up with an overall long term strategy was explained.
The presentation began with a crash course from Steve Stipanovich about what industrial asset recovery is before exploring why it's so important, including its main benefits, as well as the different methods by which asset recovery can be accomplished. Steve then broke down the principles of creating long term asset recovery strategies, including viewing the other methods as operating on a spectrum. Finally, Steve focused on asset recovery related to reselling, which should be one of the most effective ways to gain the benefits of recovering the value of surplus and obsolete inventory, but faces a host of challenges and limitations in the marketplace.
Michelle Lester then offered a look at sustainable long term solutions. With three main branches of services, including direct purchasing, consignment services, and marketplace services, NRI creates custom-tailored solutions for a wide variety of companies across any number of industries.
In this article, we will be covering the topics from the presentation, beginning with a look at what asset recovery is. From there, we will discuss the importance of finding a long term asset recovery strategy, including the related difficulties with implementing a truly effective one. We will then explore how NRI creates solutions that are different and effective.
Table of Contents
Asset Recovery Terminology
Asset Recovery: The process of recovering value from assets. These assets can be used, obsolete, or surplus to a company's operations. The value recovered ranges depending on the method of recovery executed. It can range from cash to tax benefits. Asset recovery is also sometimes known as investment recovery.


Capital Expenditure (CapEx) – Refers to the money or capital spent by a business or organization on acquiring or maintaining fixed assets, such as land, buildings, and equipment.

Consignment Based Selling: Consignment Based Selling is the process of a third party selling an item on behalf of the item's owner. The third party is usually responsible.


Fair Market Value: Fair market value is a term used by appraisers when determining an item's value. Simply put, it means that the price an item is sold for should be close to what a buyer is willing to pay for it. Since auctions use a bidding process to determine how much buyers are willing to pay, an item's sale price at an auction could be considered fair market value.


Forced Liquidation Value:

Forced Liquidation Value refers to when there is a limited timeframe in which an item must sell, regardless of price.

The value received from this limited timeframe sale is referred to as the forced liquidation value. Typically forced liquidation value is the lowest amount of value recovered.


Holding Costs - Holding costs, also known as carrying costs, are the additional costs involved in storing and maintaining a piece of inventory.


Orderly Liquidation Value: Orderly liquidation value refers to the value recovered from an item when there is no limiting timeframe placed on the sale of the item. Typically this value is higher than a forced liquidation value.


Private Treaty Sale:

Sale where the terms are negotiated directly with the buyer, either through an agent or the owner.
What is Asset Recovery?
At its most basic, the definition of asset recovery is the process of recovering the capital spent on assets that are surplus to an organization's needs. This involves taking tangible assets, like installed equipment or obsolete inventory, and converting it into a different form of capital, often cash. The goal of an asset recovery strategy should be recovering the maximum value from an asset.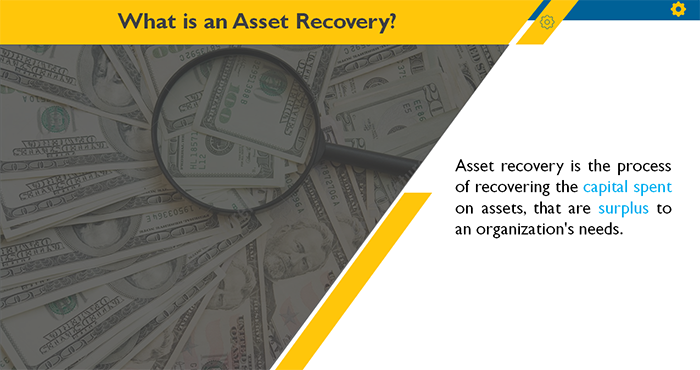 Before we get into how you can extract value from obsolete inventory and what forms the value extracted through an asset recovery process can be, we will discuss the need for asset recovery and examine how other organizations manage their asset recovery operations.
Why Implement an Asset Recovery Process?
According to research conducted by the Investment Recovery Association, "on average, 20% of an organization's assets are surplus to its needs". Consider your organization's capital expenditure over the past couple of years. How many assets have become surplus to your operations? How much capital has been spent on inventory that is sitting idle in your facilities? Think about the redundant assets that are currently sitting in your plants. Do you have slow-moving inventory? Do you require warehouse expansion?
Without an asset recovery process, this inventory would sit idle, either costing your business more in holding costs or once inventory levels become too much be disposed of.
An asset recovery strategy allows you to recapture some of the asset's remaining value. As we continue to push deeper into unprecedented times due to the COVID-19 global pandemic, it is vital for organizations of any size to explore any and every avenue that will allow them to increase capital.
How Are Organizations Managing Asset Recovery
Asset recovery operations are not a one-size-fits-all model. Each organization structures asset recovery differently to suit their organization's specific needs. Let's examine some other organizations to see an overall trend in how organizations manage asset recovery.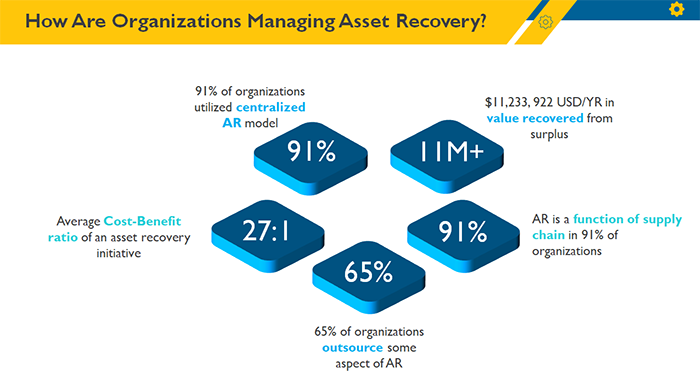 Using the research provided by a joint benchmark study by CAPS Research Group and the Investment Recovery Association, here are five key findings your organization should be aware of.
Cost-Benefit Ratio
A cost-benefit ratio in this context refers to the average cost of an asset recovery initiative compared to the average benefit experienced from the initiative. According to the benchmark study, the average cost-benefit ratio was 27:1, meaning for every dollar spent on asset recovery initiatives, there is a 27 times return.
Value Recovered
Of all the 40 companies included in the industry benchmark, the average value recovered from surplus assets was $11,233,922 a year. This figure outlines the potential monetary value of an asset recovery strategy and can illustrate how lucrative asset recovery initiatives can be.
Centralized Vs. Decentralized
When comparing a centralized approach to a decentralized, 91% of the organization included in the benchmark utilized a centralized asset recovery model. A centralized approach to asset recovery operations refers to when asset recovery operations in an organization are handled from one group or location. Conversely, a decentralized approach is when AR operations are conducted at the individual plant level.
Internal Resources or Outsource?
According to the benchmark study, 65% of the organizations surveyed outsource some aspect of asset recovery to an outside vendor. This shows that most organizations felt that they needed some form of external expertise to implement an asset recovery strategy.
Who Manages Asset Recovery
In 91% of the organizations surveyed for the benchmark reported that asset recovery is a function of the supply chain.
The Benefits of Asset Recovery
Asset recovery can be exceptionally beneficial for organizations in more than one way. From the standard recovering capital that can be added to a company's bottom line to environmental and corporate sustainability benefits. Below is a list of the main advantages of implementing an asset recovery strategy.
Recover Capital
Reduce Warehouse Space
Control Inventory Levels
Tax Benefits
Environmental Benefits
Corporate Sustainability
The most critical benefit is, of course, recovering capital. It is the primary function of asset recovery and is more important than ever to convert assets to cash on hand in a world constrained by the challenges of COVID-19. At the same time, asset recovery provides more benefits than just recovering capital.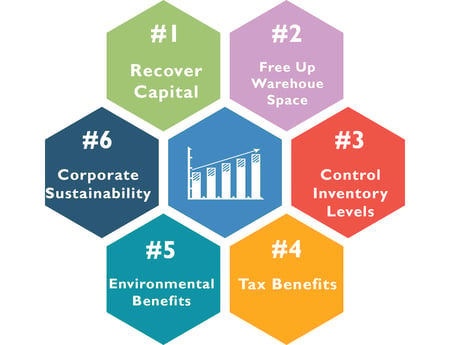 Asset recovery also can save on the expenses associated with storage space. And while environmental benefits don't directly involve financial benefits, some companies see this as a factor. For many organizations, a strong corporate sustainability plan is critical to investment, and an effective asset recovery solution is a crucial part of that.
Methods of Recovering Value
Now that you can see the benefits an organization can experience by implementing an asset recovery strategy, the question becomes, what are the options for recovering value? When considering asset recovery, your approach should be a systematic process that aims to recover the most value possible.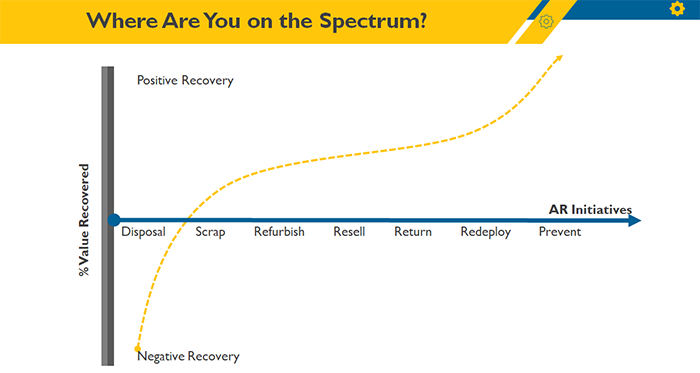 It is critical to focus your efforts on the recovery method that will allow you to recover the most value. Below are several different ways of recovering value ranging from most value recovered to least value recovered.
Redeployment: Redeployment refers to finding a way to use the assets you already own and putting them back into production, whether in the original facility or another production line. While providing the highest return rate, this method's main challenge is how difficult it can be to execute.


Return to Vendor: Some vendors will allow you to return spare or surplus assets back to them for credits to be used on future purchases. This is limited by the small number of vendors who accept returns for credit.


Resell: Resell refers to the process of selling your obsolete and surplus assets for cash value. This can be done either through a third party vendor or by the organization itself. It can be challenging as many organizations lack an understanding of the secondary market.


Scrap: Scrap refers to selling the assets for scrap value. On average, this tends to be the lowest return of value. In addition to the low recovery rate this provides, not all assets can be scrapped.


Disposal:

In addition to providing negative asset recovery, it also can create poor optics. For this method, you will pay a third-party organization to dispose of the assets in your facility. The only value recovered in this case tends to be warehousing space.
Vendor Options for Reselling
One method that most organizations opt to pursue to recover value is the resell option. However, as previously stated, these organizations lack the experience required to maximize surplus or obsolete assets' resale value.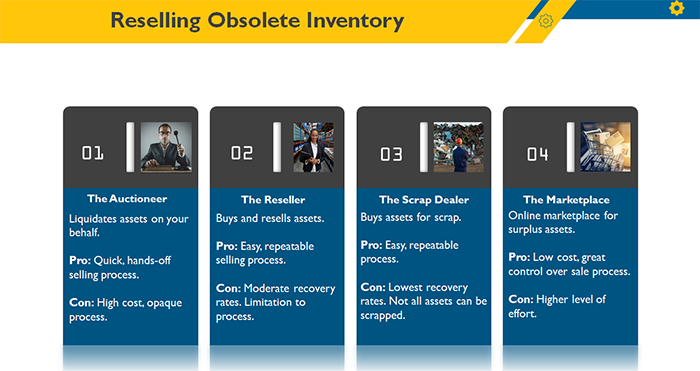 To help combat this deficiency, vendors offering different methods of selling are available to help organizations. However, not all vendors are equal. Each method of selling with a vendor provides its unique benefits and challenges. Here are the four main ways by which to resell surplus inventory:
The Scrap Dealer: This is a simple process that is easily repeatable, but it provides the lowest return rate and is not possible with all items.


The Auctioneer: Will liquidate assets on another's behalf. However, the auctioneer operates with a forced liquidation, which provides a lower return rate than an orderly liquidation, so it might not be the right choice for reselling obsolete inventory.


The Reseller: Buys and sells assets. This provides a simple and accessible way to resell assets but provides only moderate recovery rates. There are limitations to what can be resold this way.


The Marketplace:

This is when an organization sells directly to the marketplace for obsolete inventory. This involves selling, from listing online to coordinating the final sale, and can be a challenge for an organization to take on internally.
When selecting a vendor, it is vital to align your organization's goals with the vendor's strengths or selling method. Not all vendors and not all selling methods are equal, so it pays to conduct research when choosing what option is best for you.
Our Approach to Obsolete Inventory
In formulating a long-term strategy, it is most beneficial to view the different methods of the recovery of surplus and obsolete equipment and inventory to operate on a spectrum. Previously, we looked at the six main recovery value methods as a list descending in order of effectiveness.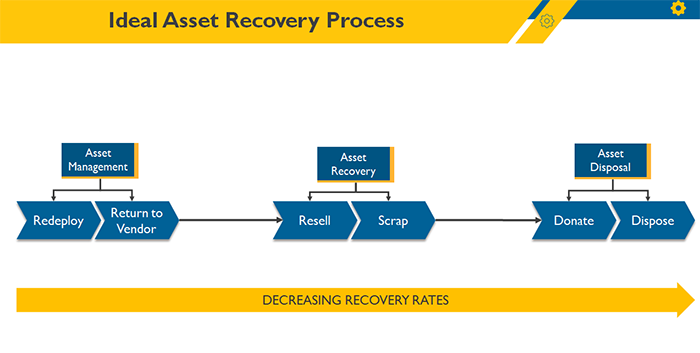 This spectrum can be viewed as a chart that runs the gamut from providing the lowest recovery rate (disposal) to the highest (prevention and redeployment). By viewing asset recovery as occurring on a spectrum, it is much easier to see the process as one that always has room for further improvement, but one which merits the investment in a long-term strategy.
The six main methods on the spectrum can be broken down into three broader categories:
Asset Management: The best solution for asset recovery; this includes redeployment and returning merchandise. These will always be the most effective options but are often not possible.


Asset Recovery: Here is the main focus of the long term strategic asset recovery. This category includes resell and scrap, but the focus should always be on reselling as that is far more effective recovery method.


Asset Disposal: This is the disposal and donating, and to achieve a long term solution, these options should always be avoided as much as possible.
In creating a long-term strategy, the most space for improvement is on the spectrum's asset recovery section.
Our Solutions to Strategic Asset Recovery
Using NRI's warehousing, logistics, and sales channels, business with ongoing surplus generation can free up warehouse space and achieve a high recovery rate. With MRO, indirect inventory, and obsolete inventory, NRI will sell the assets on a company's behalf. The client ships the assets to an NRI facility, and NRI catalogs, markets, and sells the inventory. The timeframe is 8-14 months, and NRI will holds inventory for up to 24 months. This method yields a recovery rate of 25-40% of book value.
Marketplace Services
This method allows companies who want to manage their asset recovery to self-liquidate to sell surplus inventory from anywhere in the world. With access to multiple platforms, including Aucto, NRI offers a better solution with an industrial only marketplace ideal for self-liquidation of industrial surplus to a massive global buyer base. The cataloging of assets can be done directly by the organization or by NRI. The winning buyer is responsible for shipping, and payment occurs before shipping.
NRI directly purchases surplus MRO, indirect inventory, and industrial equipment, focusing on MRO and spare parts. Acquisitions can range from lists of parts to entire facilities. There is a fast timeframe of 2 weeks to three months. NRI offers turnkey operations with as-Is, where-Is terms, with payment upon agreement.
About NRI Industrial Sales
For nearly two decades, the team at NRI Industrial Sales has been helping companies worldwide liquidate and manage their surplus MRO and obsolete parts, along with other capital equipment, through direct purchase and consignment. Our solutions are designed to be turnkey and minimize the impact on your day to day operations while at the same time maximizing the value of your surplus MRO and spare parts.

Whether you are looking for a quick solution to sell your surplus inventory, such as our equipment purchasing solution, or wish to maximize your recovery value and remove your excess inventory from your warehouse with our consignment solutions. We have the right approach to help your organization through our industry-leading asset recovery solutions.