The utility sector is changing. "Business as usual" is simply is no longer an option.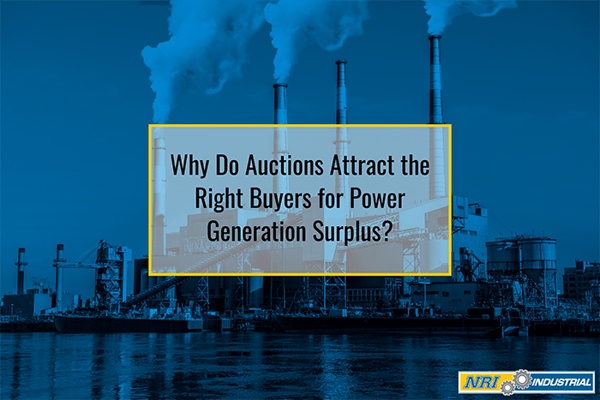 The costs of non-renewable energy sources are rising, consumer behavior is changing, and demand from investors for greater profitability is rising. New regulations require the phasing out of coal power and a renewed focus on greener power generation.
In a recent study, where a researcher surveyed 118 power & utility company executives across 56 different countries found that when asked "what is driving industry evolution answered" answered the following factors; technology advancement, customer behavior, shifts in regulatory policy, and competitor market offerings.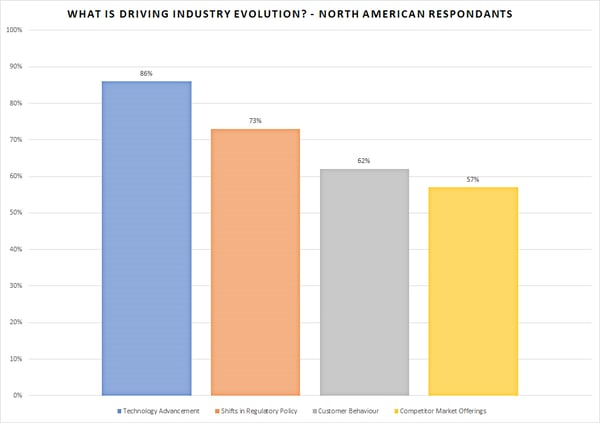 This means utility & power generation companies need to quickly adapt to these factors or else they risk falling behind their competitors. To adapt utility corporations are continuing to invest in emerging technology and a greater variety of industrial assets. In 2007, capital expenditure in the industry was just under 60 billion dollars. The last decade has shown a gradual increase and it is estimated to be over 120 billion in 2019.
What all that means for utility corporations is there has been and there will continue to be an increase in surplus industrial equipment.
The Global Energy Transformation
A survey conducted by one consulting firm found that:
Eighty-six percent of North American utilities state that changing technology is leading to an evolution of the industry.
Ninety percent say are stepping up their growth initiatives
The question becomes how do these corporations manage the growing amount of surplus machinery and equipment as they continue to purchase more?
Two things are clear:
You will continuously acquire new assets because technology is fluid and emerging.
You will also continuously need to dispose of old assets.
It's important to see asset recovery as more than a one-time band-aid solution. Asset recovery is a continuous process that when leveraged correctly becomes a vital part of a business strategy.
Liquidating used or surplus industrial equipment is one way to recover that capital. Auctions provide benefits for both the seller and the buyer. They can also be the most cost-effective means of selling surplus industrial equipment.
Understanding the Potential Return on Equipment
Tangible assets like equipment lose value over time. Still, when you look to sell a piece of equipment or machinery, you are looking to recover the most value possible, but is that a practical goal when you sell industrial assets through an auction?
Typically, the answer is no. Selling at an auction rarely brings the most value for the unit. Most often, you get what is known as the forced liquidation value. The term refers to the involuntary sale of assets. When it comes to power generation, that is due to evolving technology.
Ideally, you would purchase an asset and use it reliably for years, but the fluidity of technology and the changing expectations make that unlikely. You can either let the equipment take up space and continue to decline in value or sell it at an auction and recover some of the value back from the unused asset.
The forced liquidation value differs greatly from the orderly liquidation value, which is an estimate of how much a tangible asset would fetch in an auction-style liquidation that is sold on an "as-is" and "where-is" basis. Orderly means the seller has control over the process, taking time to locate potential buyers and letting them bid.
Forced liquidations are also "as-is" and where-is" but the seller does not take control of the process. The first available buyer takes the sale. Most of these sales occur within 60 to 90 days after the advertisement. The forced liquidation value is also dependent on different factors including what type of equipment is for sale and the desirability of the asset.
For example: for a 2000 45MVA Transformer 115kv/12.8kv: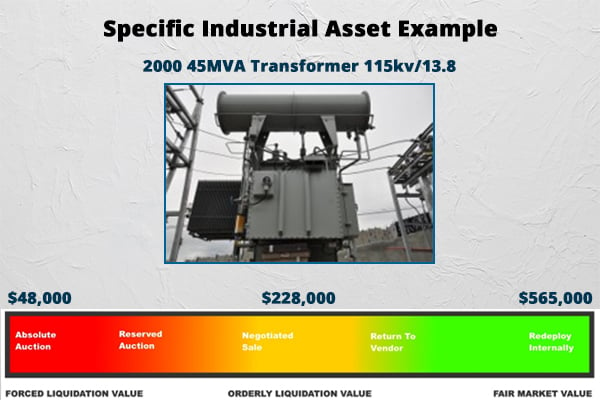 The forced liquidation value is $48,000
Orderly liquidation sale: $228,000
Fair market value: $565,000
Another example: 2006 Dressta TD-40C Crawler Dozer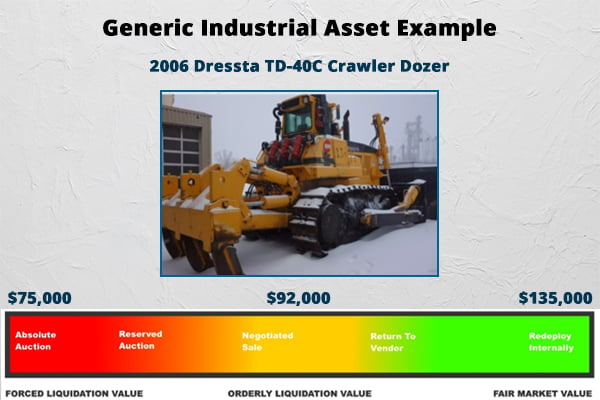 The forced liquidation value is $75,000
Orderly liquidation sale: $92,000
Fair market value: $135,000
The variance is staggering on one and not that different on another. Not all equipment is well-suited for an auction.
What Equipment is Most Attractive in Auctions?
It's important to understand what it is that makes a piece of equipment attractive to buyers. Generic equipment that applies to several different industries tends to have the most value. For instance:
Heavy Machinery
Pumps
Tools
Motors
Equipment specific to the utility industry might not fair, as well, because this is because the market for this type of equipment is much smaller compared to somewhat generic equipment that can be used in multiple industries. The transformer used in the previous example has no real value in the construction industry, so there are fewer potential buyers.
Why Do Auctions Attract the Right Buyers for Power Generation Surplus?
In part because power generation companies use generic equipment that other businesses in different industries desire like heavy machinery. A small start-up construction company will have limited venture capital. They can buy a used piece of equipment at a much lower price at an auction. They don't care that is was initially purchased for another industry. Price is the driving force behind their purchase.
An auction also gives you access to buyers looking to purchase right away. Large heavy equipment costs money and space to store. Buyers looking at auctions are motivated and usually want something they can get quick.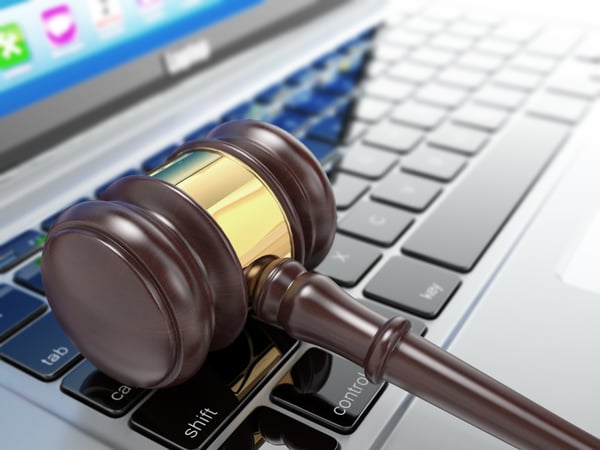 For sellers, you must consider several factors when looking to sell industrial equipment at an auction. For example, some common factors to review are:
Time — How long can you afford to store this equipment
Ease — How much do you want to be involved in the selling process? Orderly liquidation may be time-consuming.
Cost — The machinery is not making money while sitting in storage. Chances are it's costing the company, instead.
Audience — Do you look to host a local auction to attract buyers from nearby or do you try to reach a bigger audience and move to an online format.
Online or Local Auction — While each side has its benefits which auction format will maximize the value you recover.
An auction is a practical choice for power generation companies as the world changes as do the expectations of the industry.
Pick a Partner with a Proven History of Success
NRI Industrial Sales worked with one of the largest power providers in the U.S. to help them liquidate some units as they downsized some of their facilities.
When they downsized, this client was left with surplus maintenance, repair, and overhaul (MRO) equipment along with spare parts and idle generating equipment.
There were several challenges with this project including time — NRI Industrial Sales had a two-month window to sell more than 5,000 pieces ranging from idle and surplus assets including MRO electrical equipment. The nature of the equipment required them to use members of the client's staff, as well, adding to that challenge.
To meet those challenges, we implemented and executed the following strategy:
We organized an online industrial auction.
We hosted the auction on an industrial specific auction platform to reach the right buyers.
We grouped the equipment and parts into lots to sell the assets quicker and for more.
We developed a multi-pronged strategy using a combination of auctions and direct sales. By using online auctions, we were able to reduce the resources and time it took to sell these items. In the end, on behalf of our client we were able to sell more than 5,000 pieces that included:
Electrical equipment
Controls
Valves

Read more about our success story by downloading our case study by clicking the link below.
NRI Industrial Sales provides businesses with asset recovery solutions tailored to your business' needs. We work to help companies from all industries recovery capital for used and surplus assets in the most cost-effective and time-saving way possible. Speak to one of our auction specialists today to find out how to make the most out of asset recovery.
To learn more about how we help Power Generation and Utility companies call us at 1 (855) 709-9813, send us an email at solutions@nri-isd.com.
Like this article? You may also like some of our other articles on Online or Onsite: Which Auction Format is Better for Utilities Companies? or you may also like How NRI Industrial Sales helped a Large Energy Provider With Their Surplus Challenge.